Kyle Busch held off a hard-charging Kevin Harvick to win the O'Reilly Auto Parts 500 at Texas Motor Speedway in the Monster Energy NASCAR Cup Series on Sunday. After finishing in the top three in the previous four races the Las Vegas, Nevada native led 116 laps in route to a victory in the Lone Star State.
Busch ran towards the front of the pack throughout the day, finishing the three stages in second, first, first respectively. Running up front allowed the driver of the number 18 Interstate Batteries Toyota Camry to avoid a chaotic race behind him.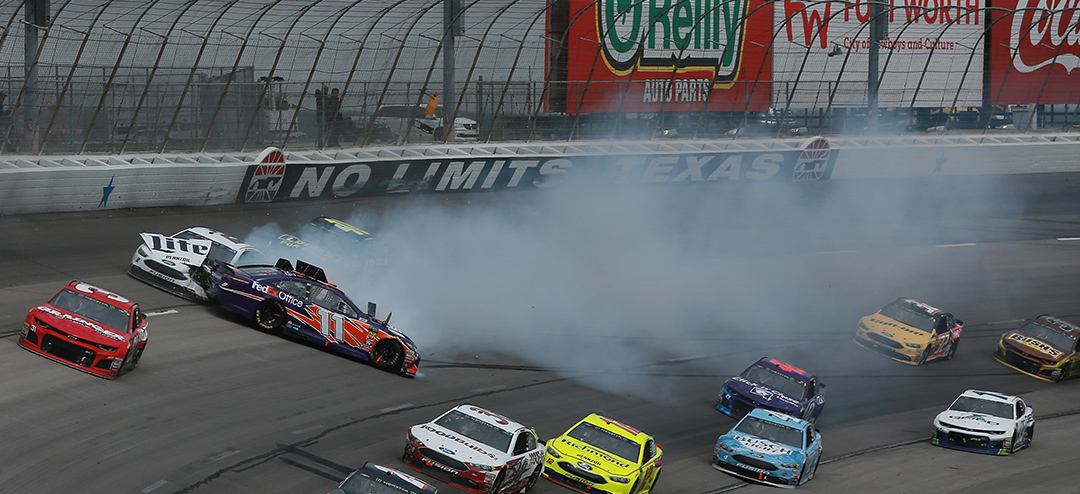 Sean Gardner/Getty Images
A CRASH-FILLED SUNDAY AT TEXAS MOTOR SPEEDWAY
The 500-mile race was mired by a series of crashes, tire failures, and pit road issues. Denny Hamlinsparked a Texas version of the Big One after getting lose underneath Aric Almirola in Turn 3, collecting a number of cars including championship contenders Brad Keselowski and Jimmie Johnson, who both retired from the race shortly after.
Goodyear tire failures became a critical factor in the race after Martin Truex Jr. experienced a right front failure while running in the lead on lap 80. Kyle Larson met a similar fate after his right front tire expired 46 laps later while running fourth. Seconds after reporting to his crew that he had a vibration, Ryan Newman also crashed hard into the outside wall in the dog leg on lap 303 after experiencing a similar tire issue. The tire failures resulted in a DNF for all three drivers.
Fortunately, all the drivers avoided serious injury during the event. Daniel Suarez required a splint on his left hand after aggravating his thumb during a Lap 2 wreck involving multiple vehicles. Suarez will have a diagnosis this week, although he reported after the race that he should be okay.
Top Performing Fantasy Picks
A Class: Kyle Busch– 19% Started / 68 Points
B Class: Kurt Busch – 5% Started / 56 Points
C Class: Bubba Wallace – 3% Started / 29 Points
D Class: Ty Dillon – 19% Started / 24 Points
The Monster Energy NASCAR Cup Series returns to short-track racing next Sunday for the Food City 500 at Bristol Motor Speedway.