Martin Truex Jr. led a race-high 59 laps to win the Toyota/Save Mart 350 at Sonoma Raceway on Sunday.

Truex Jr. and crew chief Cole Pearn successfully handled the road course strategy, pitting before the two stage ends to gain track position on the following restart. While sacrificing playoff and stage points, the call to pit put Truex Jr. upfront after the final pit stops cycled through. The Joe Gibbs Racing driver was able to hold off a hard charge from teammate Kyle Busch to win the first road course race of the 2019 Monster Energy NASCAR Cup Series season.

"He was beating us there for awhile. I knew if we can just maintain a decent gap we would start to equal out." Said Truex Jr. after the race. "We had to pass some lap cars, and luckily we were able to catch them in the right places to not lose too much time to Kyle."

Joe Gibbs Racing Finds Victory Once Again at Sonoma Raceway
After going winless in the first eight races of the season, Truex Jr. now has four victories in the last eight races. The 2017 MENCS Champion is reaching expectations after the offseason move to JGR, with both Truex Jr. and Kyle Busch earning a combined 50% of the wins so far this season.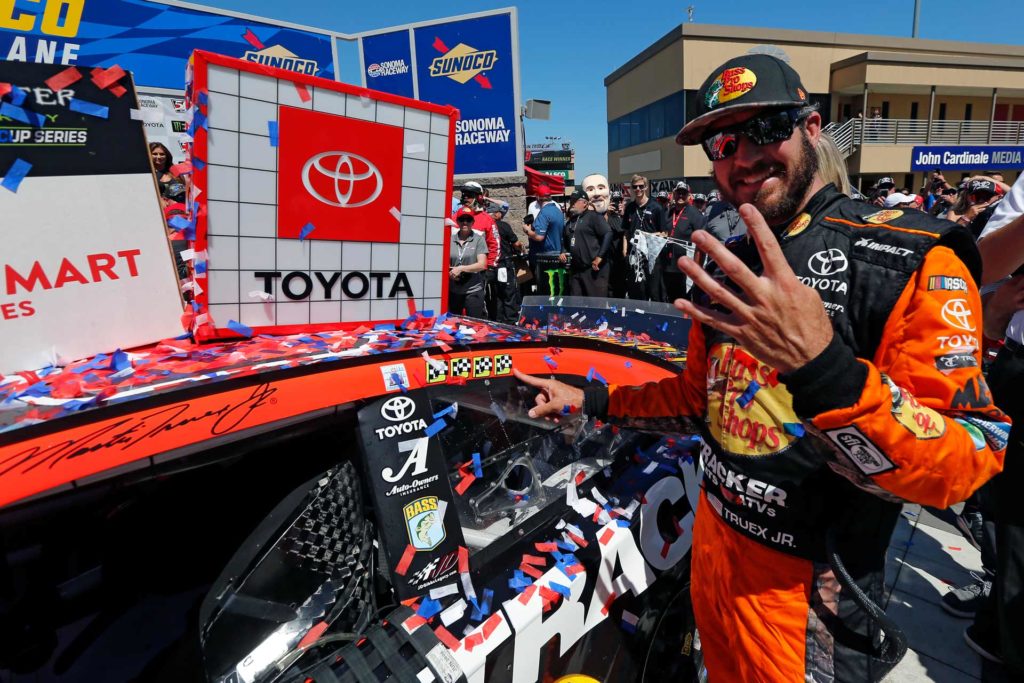 While the two teammates battle hard on the track, a mutual respect to help the team has elevated JGR to a staggering juggernaut with 10 total victories through 16 races in 2019.

Truex spoke of Kyle Busch and their working relationship as both teammates and competitors. "He (Kyle Busch) is really smart about his racecar; he gives great information and we're all better for it. We have a mutual respect. We're fast, we both have great teams and we can push each other to be better, and that really elevates the whole company."

Toyota/Save Mart 350 Results

The two stage breaks were the only two cautions in the Toyota/Save Mart 350 at Sonoma Raceway. This prevented many drivers from recovering from early mistakes in the race.

William Byron led every lap in the first 20 Lap segment. However, the Hendrick Motorsports driver lost track position and ultimately finished 19th. Denny Hamlin stayed out on the track to win Stage 2 and earn a playoff point. After pitstops cycled through, the JGR driver was able to battle back to finish 5th.

View the full race results from the Toyota/Save Mart 350 at Sonoma Raceway below.
View Results