Martin Truex Jr. led 32 laps enroute to winning the South Point 400 at Las Vegas Motor Speedway Sunday night. 
The 2017 Monster Energy NASCAR Cup Series Champion bolted past Kevin Harvick with 20 laps remaining in the 400-mile race and sailed to victory. The win is Truex Jr.'s fifth of 2019 and 26th career time reaching victory lane. The Joe Gibbs Racing driver is now the first of 12 drivers locked into the 2nd round of the MENCS Playoffs.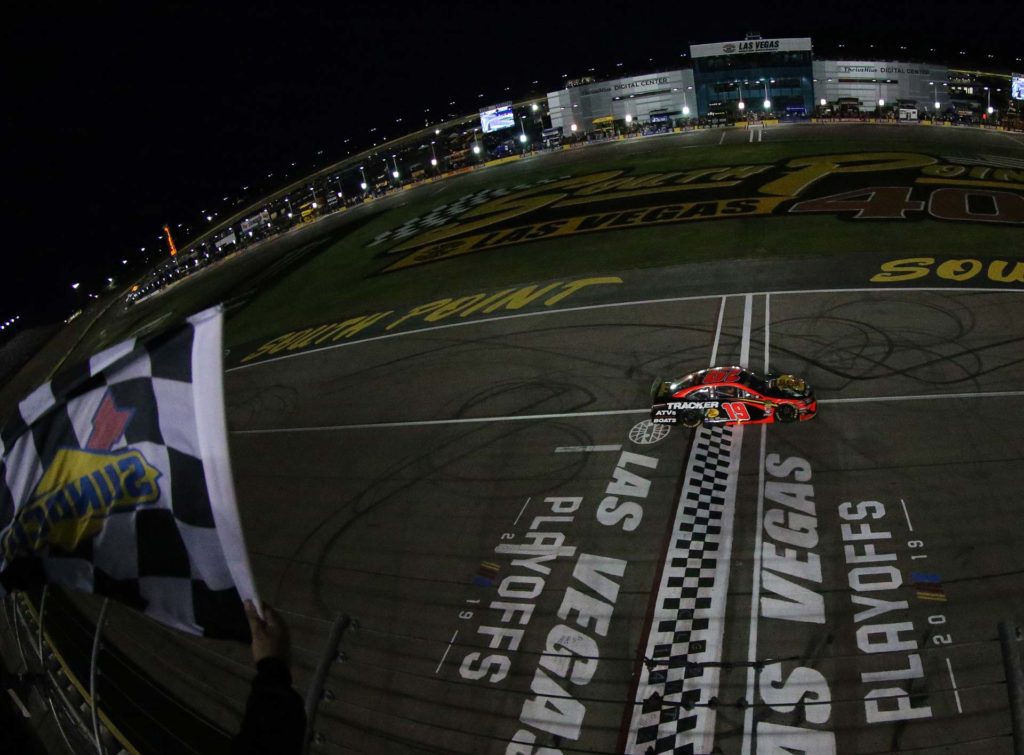 Playoff Contenders Find Trouble in South Point 400
While Truex Jr. avoided trouble throughout the South Point 400 in Las Vegas, other playoff contenders faced challenges throughout the race. 
Early in the race, Kyle Busch made contact with the outside wall, damaging the No. 18 Toyota Camry enough to hit pit road under green, losing two laps. After battling his way through the field and back onto the lead lap, Busch drove into the back of Garrett Smithley and ended any potential for a good finish, ultimately finishing in the 19th position.
After pit stops, Busch's teammate Erik Jones was unable to shift out of 2nd gear, forcing the No. 20 JGR team to the garage for repairs. Jones was regulated to a 36th place finish.
Contact on the track caused a flat left front tire for playoff contender Kurt Busch, who slammed into the outside wall, resulting in a DNF and last place finish.
Joey Logano led a race-high 105 laps before contact with Daniel Suarez ended an impressive day for the No. 22 team. However the 2018 MENCS Champion held on to finish in the 9th position.
Playoff Standings After Vegas
Martin Truex Jr. – 2082 Points
Kevin Harvick – 2079 Points
Joey Logano – 2075 Points
Kyle Busch – 2063 Points
Brad Keselowski – 2058 Points
Chase Elliott – 2057 Points
Denny Hamlin – 2056 Points
Kyle Larson – 2044 Points
William Byron – 2040 Points
Ryan Blaney – 2039 Points
Alex Bowman – 2037 Points
Aric Almirola – 2033 Points
Ryan Newman – 2027 Points
Kurt Busch – 2019 Points
Clint Bowyer – 2012 Points
Erik Jones – 2007 Points