Winning sure feels good, right? After earning a victory, the winning NASCAR driver holds the trophy high above their head in celebration after a race. We wanted to add a way to recognize fantasy triumphs at Speedway Collective through fantasy NASCAR trophies. With that, we introduce our newest feature: Awards.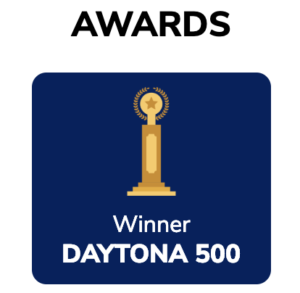 Some of you may have noticed a new section on each member's page labeled "Awards." Awards can be found below the member's results. For example 57Terp earned the victory in the Folds of Honor QuikTrip 500 at Atlanta Motor Speedway in the Speedway Collective league with a points total of 141. This earned him the Race Winner trophy. 141 points was also the highest points total this season, earning him the Most Points trophy as well.
The awards are unique to each league you're competing in. As of today, there are seven different awards that can be earned:
– League Champion
– Race Winner
– Stage 1 Winner
– Stage 2 Winner
– Max Qualifying Points (15 Points)
– Most Total Points Earned in a Race
– Sprint Champion (Most Points Earned Through 4-Race Stint)
These trophies are rewarded at different times throughout the race weekend. The Max Qualifying Points award is earned immediately after qualifying. If you have all five drivers who qualify in the Top 5, you will earn 15 points and the Max Qualifying Points trophy.
Upon the completion of Stage 1 and Stage 2, a trophy is awarded to the fantasy member who leads the field in points at the end of each stage. If there is a tie, the tie-breaker is decided by the highest qualifying points earned.
At the end of the Monster Energy NASCAR Cup Series race, the fantasy winner for each league earns the Race Winner trophy. If you scored the highest points total throughout any race of the season, you will also earn the "Most Points" award. Only one member in each league can hold this award at any given time.
At the end of each four week "Sprint", a Sprint Champion award is granted to the points leader. After the season, the champion will earn the League Champion award, the highest prestige of all fantasy NASCAR trophies in competition.
Build up your trophy collection and showcase your Fantasy NASCAR success with each award. We will continue to add awards throughout the season. Do you have an idea for an award? Leave us a comment below or through our contact form and we will be excited to hear what ideas you have!